Star Wars: Mandalorian Season 2 
Mandalorian the Disney+ tv show is here! Many people are getting ready for the new Season by getting caught up or rewatching the first Star Wars live-action series. Mainly many fans are excited to see the Mandalorians duty to reunite Baby Yoda with his own kind. Mando says, "You expect me to search the galaxy for the home of this creature and deliver it to a race of enemy sorcerers?" Mando asks, only to get a "This is the Way" in response by the armorer. Pretty much, welcome to Season two of which this show is likely to become.
 Here's 3 students at our High school who are excited for the new Season. Andrea Erikson, Matthew Hinck, and Tyler Rigby all share their experiences with the first Season and their expectations for this upcoming Season. 
First day of Mandalorian Season 1
"Well we'd stay up late watching it, and we'd rewatch it, it was fun doing it with my family," Erikson said.
"I just remember like my family doesn't really have a t.v. show we all like different tv shows and stuff, but like when Mandalorian came out we all watched it together, and I remember this one distinct time we're eating chex mix and watching Season 1 Episode 5 exactly, and for some reason that tv show stuck with me cause my whole family would watch it," Rigby said.
Andrea and Tyler both Juniors, enjoyed watching the show with their families, and made connections getting together to watch the first Season. Good memories indeed.
"[I was] Watching it in Salt Lake City in the hotel room during the choir trip with the boys," Hinck said. 
Matthew first watched this show with his best friends on a huge choir trip!
Now here's the little green adorable child, Baby Yoda! Here's what Andrea Erikson and Tyler Rigby have to say about him.
"He's cute and all, I think people over play him almost," Andrea said.
"Pretty cute dude, I mean I'm kinda tired of calling him Baby Yoda though, he actually needs a name in the second Season, and it's gotta be a requirement, but literally everyone loves Baby Yoda, people just watch it just to see Baby Yoda. (chuckles) The memes, the memes are good," Tyler said. 
Yoda is by far the cutest character in Mandalorian. Yes, Tyler made a good point, Baby Yoda should at some point have a name throughout this Season or his lifetime. Baby Yoda is 50 years old. Big Yoda died in the age of 900 years.
Matthew Hinck a Madison Senior said, "Hopefully we see some Jedi, I mean it's expected cause it's Star Wars."
Exactly the point. What's Star Wars without Jedi?
Tyler Rigby had to choose between three of the most common quotes from Mandalorian. "It's none of these three [quotes "This is the way", "I like those odds", "Stop touching those things!"] my favorite is "I have Spoken" oh yeah, didn't that guy die or something?" 
Yes, he did die. His name was Kuiil. He died protecting Baby Yoda from being taken by the empire. IG-11, a friend of Mando, then saved Baby Yoda from the two stormtroopers. 
"Usually, I think the first Season of shows is just to get it started, I think the second Season will definitely kick it up a notch. The first one is just setting everything up, but now that we know kinda everything, it's gonna rap up  [to be a] little bit more interesting," Rigby said. 
There have been rumors that the Jedi Legend Ahsoka Tano will possibly be in the new Season. That will make the Mandalorian story more interesting and definitely change the story quite a bit. Just think about it.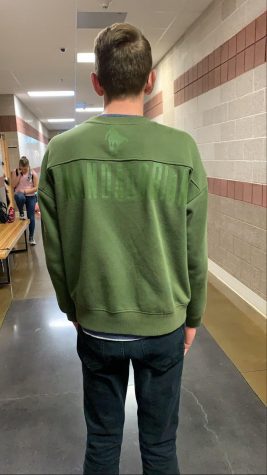 "May the Force be With You","I Have Spoken."