Voting 4 Prez
(scroll down for results)
Voting for next year's student body officers took place Wednesday, and Thursday, April 7th & 8th, last week. As Madison High winds down after an incredibly difficult and sporadic school year with covid and all of its wonderful side effects, preparations are being taken for the student body leaders of the 2021-2022 year. Glimmering on resumes and college applications, student body president is the envied title of the elections. Andrew Walker, Cutler Castillow, Matthew Jeppsen, and Kayson Smith are all those vying for the position. Being a driven, academic, and well-rounded student is necessary for winning the votes of their peers.
"I'm doing the advanced opportunities program which has really pushed me to learn as much as I can," Junior candidate Andrew Walker said.
The advanced opportunities program is a program rapidly gaining popularity established for students to gain an associate's degree when they graduate high school. Walker is just one student here at MHS that is part of the program, and he believes that this rise in academics is something to be proud of and to be continued in the future.
"I think we're pretty ambitious [as a school]" Walker said.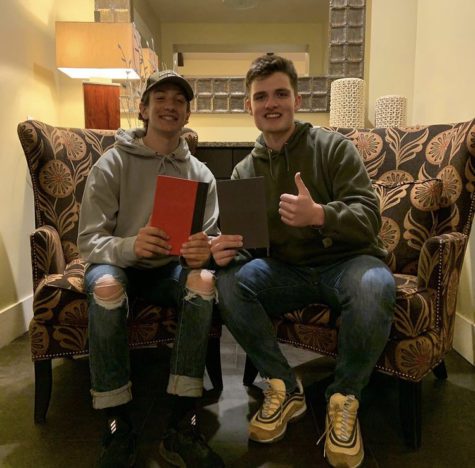 School Pride is a paramount quality for presidential candidates. As representatives of MHS, the student body president must be encouraging and kind to all students. 
"My biggest influence has been our current Senior Class President, Ellie Wolfe. Ellie was so nice to me and so encouraging. She taught me how to be a friend to everyone. She has taught me to serve as an effective leader, you must care about the individuals you are representing," says current Junior Class President and candidate for future student body President, Kayson Smith.
With school elections understanding the Candidates values and influences is necessary for the election process. 
"I have a detailing business that I've learned a lot of leadership skills from. I think it's helped me be capable of running for office," Junior Candidate Cutler Castillow said.
Being a leader is the literal job definition of Student Body President, but there is a lot more to the position than that. Presidents must be agenda-setters and vocalize the student opinion. They must also be reformers, constantly trying to remold MHS to be a better fit for everyone. 
"I'd like to raise awareness just about mental health. I just really think it's something people should really be conscious of at this time," Candidate Walker said. 
Expressing compassion and care for fellow classmates is gladly a common practice by this year's candidates. 
"I like to talk to people and get to know them. Which is why I decided to run for student body president. I want to be able to help students learn more about each other by introducing students who have overcome challenges with students who are going through hardships now. As Student Body President I thought it would be good to connect with students," Junior Candidate Matthew Jeppson said. 
And compassion is seemingly the deciding factor in this year's election. Out of all the candidates, the students at Madison High elected Kayson Smith for Student Body President, an individual that many have praised for his kindness.
"There are individuals who voted for me, and I don't even know who they are. I wish I could thank each of them specifically because I'm so excited to represent them next year," said Student Body President-Elect, Kayson Smith. 
Congratulations to Kayson Smith! He has a lot of plans in store. So here's to an exciting 2021-2022 school year and all the many exciting changes (and hopefully the lack thereof) to come.
"I want to get more kids involved in more things. This year has been hard because Covid has put so many restrictions on us, but next year I plan to promote every event as much as I can," said Smith.