Varsity Volleyball: Fourth at State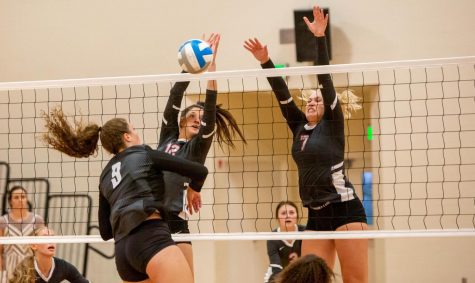 The Varsity Girls made it to State this year! All the girls put forth their best efforts to get to play for State, especially with the many late injuries that came in preparing for State. We'll hear from 3 Varsity Volleyball girls, Sydney Parker, Charity Wilson, and Bethany Hunt their overall  experience going to State.
"It was fun, it was my fourth year going. And it was just different with a whole bunch of injuries. Like I knew I had to step up and play my role so we can at least place at State," Parker said "We just grouped closer together as a team, and had more team chemistry than I had in the past 3 years." 
Sydney's experience this year was definitely different with Charity Wilson and Maddie Wolcox both really great players for this team upsettingly injured wanting to play State this year. Sydney had to step up, and play her role for Madison and for her injured teammates in order for them to place this year. 
"I think just being with the team like it's a little different since it was in Idaho Falls this year. We didn't have a big long trip, but just being together as a team it's super fun. I think everyone really just stepped up trying to fill the roles that you know that we had lost, and just try to keep a positive attitude, and believed in ourselves that we could pull out and win some games. I think it's pretty good we could have done better I'm sure, but you know we gave it our all," Wilson said. 
Charity liked going to Idaho Falls for State, being closer with the team and a million times better closer to home rather than a long road trip. Charity's thoughts were that even with the 2 players that they lost they could've done better, but still they gave it their all.
"We got 4th, we won the consolation bracket!," Parker said.
Here's Bethany's experiences making State, injured teammates, and placing 4th in the consolation bracket.
"Well in the game it was all of the team chemistry and how well we played together, especially since we lost 2 players, it's good how well we played together. We have lots of good players on our team that were able to fill their shoes. They were both outsides they were really good outsides so we had to switch everyone around and it worked really good," Hunt said. Bethany continued saying, "I think that we just have good players that we can play all around so it's really nice. Well I think it was good for what we lost like again I keep saying this but we lost our good players so I think we could've done better if we were just more focused, but we got 4th place which isn't too bad considering what we lost and how young our team is! So it's pretty good!"