Madison Falls Short in a Tight Game Against Idahofalls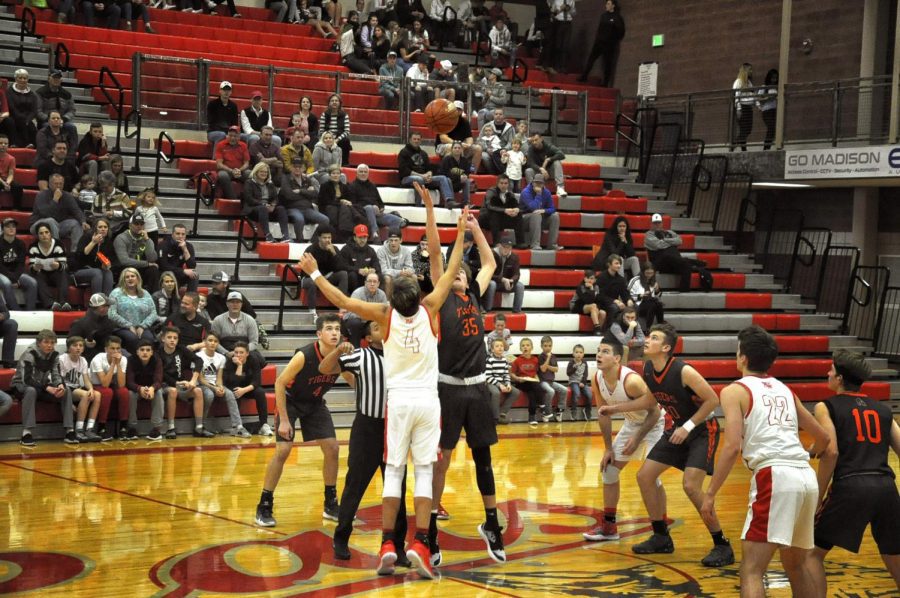 Lacey Robison, Reporter
December 20, 2019
The Madison boy's varsity basketball team, lost a home game Thursday 61-57 against the Idaho Falls Tigers. The Bobcats starters for the night were Carson Downey, Dawson Wills, Mark Williams, Easton Cordero and Taden King. Madison started off in a man-to-man defense in the first quarter and only gave up 16 points to the Tigers.
Offensively, the Bobcats were running quick, cutting plays to look for the open back door passes through Idaho Fall's zone defense. Both teams were quick to put up shots, but by the end of the first quarter, Madison was down 16-15.
Heading into the second quarter the Bobcats switched up their defense to a zone, to try and stop Idaho Falls from penetrating to the basket. With Madison's zone, more offensive charges were given to the Tigers, in their attempts to make layups. Although it stopped some, Idaho Fall's Kenynion Clark was still able to score 14 points in the first half alone. Even though it was battle, the Bobcats were able to take the lead in the game, 30-25. Coming out of halftime both teams showed more execution in their plays and were able to put more shots in the hoop.
Both turnovers and steals were playing a big role in scoring during the last few minutes of the game, with Madison at nine steals and eight turnovers and Idaho falls with three steals and 17 turnovers. The Bobcats were able to tie it up with the Tigers, 48-48 with a little more than three minutes left in the game.
Madison tried to stop the clock with using fouls but even with little time left, the Tigers were able to make 56 percent of their fourth quarter free throws. Mark Williams fouled out of the game with 14.5 seconds left, leaving the Bobcats without one of their senior players.
The Tigers took the win of the game with the final score 61-57. Madison head coach, Travis Schwab thought that there could have been better execution in his teams defense, but overall still saw some very good things from this game. "Our kids really showed a lot of heart at the end," Schwab said, "they were playing to the very last second, and I can't complain about that." Free throws also could have made a difference, but still 62 percent of them were made.
For the next game the Bobcats want to be able to execute better defense and keep down the opposing teams points. "Against Blackfoot, I think you'll see us defensively get after it," Coach Schwab said. The Bobcats next game will be at 7:30p.m. this Friday (December 20th) against Blackfoot at Madison High School.