Madison Presents "Return to the Magic 2021" a Kurt Bestor Christmas
Kurt Bestor, an Emmy-award-winning
 and Grammy-nominated composer and performer is performing with the band, orchestra, and choir at the Madison Presents concert. Music has played a big role in Bestor's life, ever since he was born.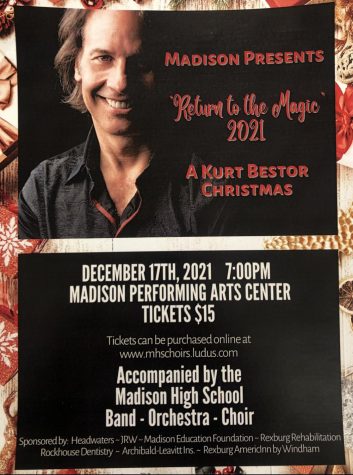 "Well, music kinda got into me. I was born with the genetics of music. When I was a junior in high school there was a couple of people named Donny Osmond and Marie Osmond, they had a television show. I used to skip school to go play trumpet in their band," Bestor said. "I made forty bucks an hour to skip fifth and sixth period." 
Bestor is not unfamiliar with Madison however. In 2018 he also came up and played at Madison for fundraising for the music program. It also helps that he has family that lives up in Rexburg.
"This is not the first time I have come before. It doesn't hurt that I have nieces and nephews that went to school here. It doesn't hurt that my sister is very muched involved in the community," Bestor said.
Some of the songs that will be performed at Madison Presents includes "Deck the Halls", "Joy to the World", "Oh, Holy Night" which Bestor will play on the FlugelHorn, and an original carol which Bestor wrote called "Where the World is Christmas".  He will surprise the audience with a special number while at the show.
"I usually wait till game time to decide what else to play," Bestor said.
Bestor has been working with the band, orchestra, and choir kids for the few days leading up to the concert and is impressed with the program and talent that Madison has.
"What's great here is that the band, orchestra, and choir is more like a junior college. They are very high quality. The kids are very good. They've been taught well."
In a world where money's tight and lots of schools do not have orchestras, bands, or even choirs, MHS takes pride in what they have to show and value the art.
" It's just one of those things that this school values, and I think that it is really admirable. So congratulations to Madison for valuing music," Bestor said