The Art of Archery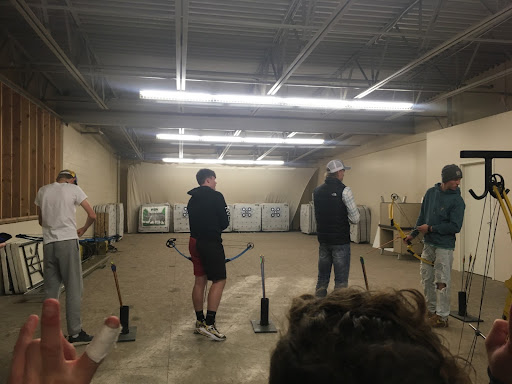 The Fish and Wildlife class started teaching their student archery on Monday, November 8th. On November 10 teachers Mr. Bair and Mr. Johnson decided to have a little competition to see who could get the tightest grouping of the arrows.
"I think it's really important to learn how to shoot a bow now, especially for the students wanting to go forward into hunting, " Said Bair. "In first place Was Taycen Clark."
With the competition almost done and the final 5 getting ready to shoot, Bair and Johnson were very surprised with the final kids standing.
"Some of the top 5 people surprised me but it definitely didn't surprise me when Taycen won the competition, he definitely has spent a lot of time in the outdoors," Said Bair
All the students have been practicing their aim and grouping, and will continue to practise throughout the trimester.
"I'm definitely having fun shooting a bow, I was kind of surprised I got second place in the competition, it definitely makes me want to keep practicing and working at it," said Junior Donavin Lords.