Rigby v. Madison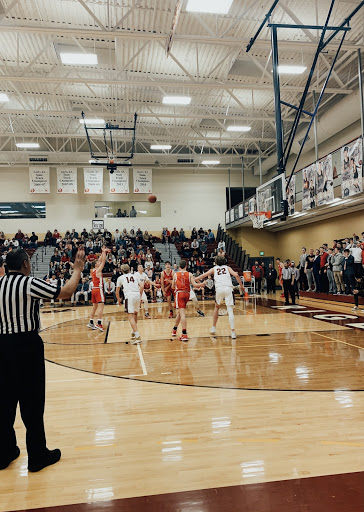 Wednesday night's game was intense. By the 1st quarter, it was 11 Rigby 15 Madison. The boys played hard, and by the second quarter, the score was 24 Trojans and 18 Bobcats. By the third quarter, it was 40 Rigby and 34 Madison, and by the 4th quarter, they ended in 58 Rigby and 48 Madison. 
"It was a bummer we lost, but it was an intense playing against our rivals. It is so great to be able to watch the games again and be able to be back in the game watching as a fan. Not having a student section sucked. It was terrible. I wish we could have it back. Having a student section was nice because we could cheer on the players and boost their confidence. I think Logan Crane played pretty well. He held the team together and had a good attitude," Junior Lindey Wight said.
The boys didn't have a student section, which held them back because Rigby got one and Madison didn't. 
"The game was ruff. It would've helped if we had all the fans there and a student section. The student section brought the boy's energy up. It's upsetting not having one, especially because the other team did. It sucks not everyone could go, especially because Rigby got extra tickets. My brother stood out to me because that's who I usually watch, and he's a leader of the team," Sophomore Megan King said. 
"It was a tough loss to Rigby. I bet if it was at home, we could've had a student section, and it would've been different. The home games are so fun, especially with how hyped it gets in our student section. I miss going to the games, so I'm really happy to be able to go. It just shows how hype we get for our basketball team and how much we love it. Tyson Lerwill had a heck of a game, and his defense was really good, " Sophomore Petey Petersen said.
Hopefully the boys will be able to get a win on their next game, and we will be able to have more fans going to the game. Hype the boys up and play a good game.