Homecoming Royalty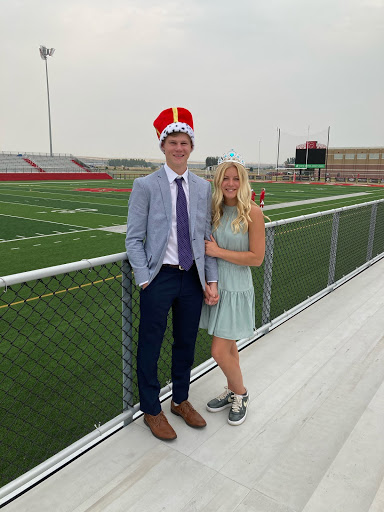 Mateo Baeza, Bobcatbeat Staff
October 2, 2020
Every year, a few people from each grade are selected to be homecoming royalty. This year's king and queen don't have a parade to be at, yet are still optimistic. This year's queen is Annalise Moore, and the King is Tyson Lerwill. 
"This year is weird because we don't get to do very much; there's no parade, so I feel like it's just kinda a title this year," Senior Tyson Lerwill said.
Essentially, the king and queen are chosen from the seniors and represent the class by going to all the activities.
"It's just a fun thing to do for homecoming week, a fun little tradition that's always been going on," Senior Annalise Moore said.
Even though homecoming 2020 is looking different, both Lerwill and Moore are looking forward to it.
"Yeah, I'm pretty excited, it's just something different that I haven't ever done before," Lerwill said.
The students are still trying to keep it the same despite possible changes.
"I hope it's pretty similar to every other year. With COVID kinda changing everything, I hope we can still have the same traditions and still have a lot of fun," Lerwill said.