One Direction Infection
What a time to be a One direction fan, am I right directioners?!
For those who aren't aware of what's going on, former member of the boy band One Direction, Liam Payne, has announced a possible ten year reunion! All the five boys,  Harry Styles, Liam Payne, Louis Tomlinson, Niall Horan, and Zayn Malik have gone their own ways and started solo careers. But this year will mark ten years since they have been on the British TV series the X factor and became the world wide famous boy band One Direction. July 23 is the day and lots of evidence shows us that we just maybe will see our favorite British boys all together again. 
One Direction fan and senior Madi Rhoads tell us about being a fan. 
"I've been a fan since about 2011. I am so excited about the rumored reunion but I also don't want to think too much about it just in case it's just a rumor and it doesn't really happen. I will be devastated!!!!!."
Me too sis, me too. And I personally share something very in common with Madi. 
"I love them all but my favorite member is Harry Styles!!" Madi Rhoads said. 
Oh how the 1D fandom unites!! A couple of things we have seen that are making us all super excited are seen on instagram, tiktok, twitter and a lot of livestreams. Zayn Malik left the band in March of 2015 and that started a lot of drama between the boys. Unfollowing each other and not keeping in touch caused a lot of separation. But recently they all started following each other again and the One Direction Twitter account became active. As well as their website, it was updated to the year 2020. Niall Horan is going live a lot because of the quarantine and has been giving little hints of a reunion too! Very exciting thing but also we don't want to get our hopes up too high.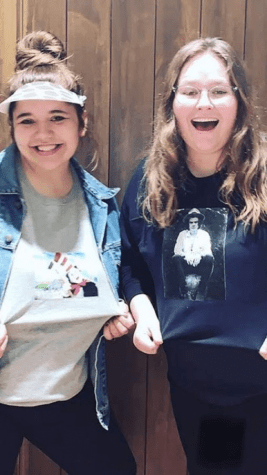 Another fan, Paige Nelson shares her feelings about the reunion. 
"I have been a fan since 6th grade and I'm hoping they have a reunion. There is so much evidence and I think they are going to reunite, if not now, then in the future. I have always been a fan of Niall Horan!" Paige said. 
Exciting things! We directioners are crossing our fingers! 
Former MHS student Charlotte Flansburg and fan said the following. 
"I've been a fan for eight years and my favorite part about being a One Direction is that they have songs for every mood I'm in!"
Agreed. Although many of us get made fun of for being fans. We are still looking forward to a reunion and won't let anyone let us down from our "One Direction Infection."