What have you been doing?
Hannah Burrell, Reporter
April 15, 2020
With all this worry of boredom during quarantine, Madison freshman, Peyton Burrell has her hands occupied (quite literally).
Burrell had been taking driver's ed classes when the school district decided to do a 'soft-school' closure due to Covid-19. Burrell received later instructions that they would be finishing their 15 more hours of unfinished class time over Zoom. Burrell has also found a talent for making bracelets recently.
"I've been making a lot of bracelets lately, and finishing online driver's ed," Burrell said.
Burrell began making bracelets a few months ago but has just recently begun working hard to finish some bracelets during quarantine.
"I make wax bracelets, where there's a slip knot so you can slide it on and off your hand," Burrell said. "I saw my friend doing them and they looked fun to me. I really liked how they looked, so I thought it would be fun to do."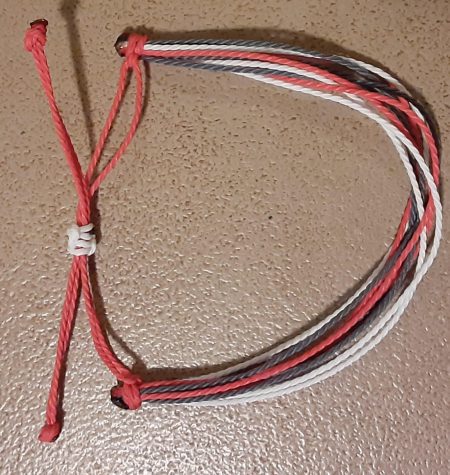 Burrell expressed how she has missed her friends and hopes they can all hang out again soon.
"My friends and I have been communicating over our friend group chat and we even did a Zoom meeting the other day," Burrell said.
With all of this productivity in my house, I decided to join in and do a "craft" of my own (I'm being sarcastic). Over the course of four days, I completed a 2,886 piece Boise State lego set by myself. It took almost over 48 hours but I feel very accomplished with it.
I showed all of my family the end result and they thought it was really cool, especially my dad who has a Boise State collection in his work office.