Top Dog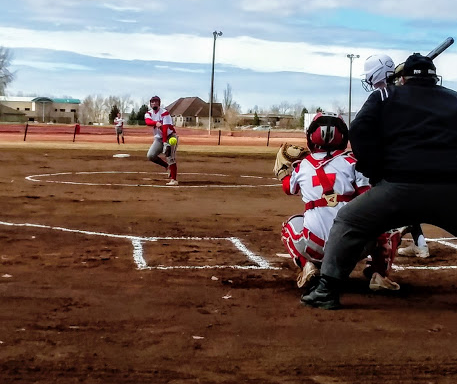 Marianna Weaver, Reporter
March 15, 2019
Senior Carlie Arnold has been playing softball since she was eight years old and has lettered on varsity all four years of her high school career at MHS. Growing up, her older sister Ashlee played and she wanted to be just like her. Arnold got her start playing in the Madison Girls Softball Association (MSGA) where she got coached by many dads including her own, Blake Arnold.
In the beginning, it was hard for her to pick a position she loved. She played first base until she fell in love with pitching.
"I definitely had to learn how to handle it," Arnold said, "but nothing is more adrenaline rushing than being in a high-pressure situation."
In the off-season Arnold does what she can to stay in shape. She hits at indoor facilities, attends college camps and open gyms. Arnold also spends time in her grandma's barn pitching to her dad to stay out of the cold. 
"I work as hard as I can before the season starts," Arnold said.
The pressure is higher than ever going into her senior season and hoping to grasp a spot at the state tournament. Arnold has high hopes for her team this year.
"We are definitely a young team but we have played together for so long. I hope we go far," Arnold said.
Arnold has made a lot of close relationships with the girls on her team.
"Arnold sets the mood, she brings the energy and the focus," Fellow teammate Junior Eden Little said.
Arnold's biggest supporter has been her mom, Babette Arnold. Mrs. Arnold goes to all of her games and supports her in any way she can. Her dad and her sister have pushed her the hardest, though. Her older sister Ashlee is the assistant coach for Madison's varsity softball team.
Arnold says it can be hard having her sister as her coach because she expects a lot. Coach Arnold pushes her to be her best and work her hardest. Even with all of the hard work, she also feels a bit of comfort having her sister around.
While Arnold was pitching in her 2018 school season, a batter hit a ground ball to third base where Junior Madison Jensen was playing. After cleanly fielding the ball, Jensen threw a low throw to first. Arnold turned to first to see if the umpires had made the out a few seconds too early. The last thing she remembers was falling to the ground. The ball had hit her straight in the back of her head, giving her a mild concussion, putting her out for a week.
Some advice Arnold would like girls coming up in the high school softball program to know is, "Have a lot of confidence and don't be scared. It's going to be a big step in your softball career and a little out of your comfort zone so be confident and believe in yourself."
After high school, Arnold plans to study to become a dental hygienist. She is not sure about which college she will be attending.
"I'm just gonna go wherever softball takes me," Arnold said.