Is Santa coming to town too early?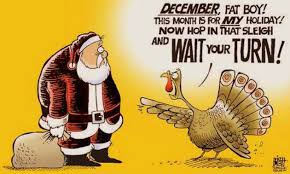 Hang on for a minute...we're trying to find some more stories you might like.
By Hallie Cichos, Alexis Navarette, and Sommer Waldron
Now that Halloween is over, many people seem to overlook Thanksgiving and start celebrating the Christmas season. To some, this is seen as too early. For some, the Christmas season can never start soon enough. Sophomore Avery Stoddard is apart of a family who are early celebrators of Christmas.
"[My family likes to] set up November 1," Stoddard said. 
Stoddard is a firm believer that Christmas celebrations begin right after Halloween and it is just fine to celebrate Christmas before Thanksgiving.
"You should be thankful everyday of the year." Stoddard said.
Because she begins decorating the first of November for Christmas, Thanksgiving decorations at her house are minimal. "We mostly just decorate for Thanksgiving like, on Thanksgiving like at the table. But then Christmas is already up so, really festive for that one." Stoddard said.
Other families prefer to began their Christmas traditions after the Thanksgiving feast. Junior James Thueson waits to began his Christmas celebrations. Thueson's favorite traditions for both Thanksgiving and Christmas include, family, food and leftovers.
"I think listening to Christmas music before Thanksgiving, that's ok. Like I'm already listening to Christmas music." Thueson said. 
Senior Cale Jensen, doesn't celebrate Christmas before Thanksgiving.
[polldaddy poll=9582493] "It's my birthday, and I like Thanksgiving." Jensen said. 
Many people have different opinions on when you should begin celebrating Christmas. Do you think it's alright to celebrate Christmas before Thanksgiving?