The State of America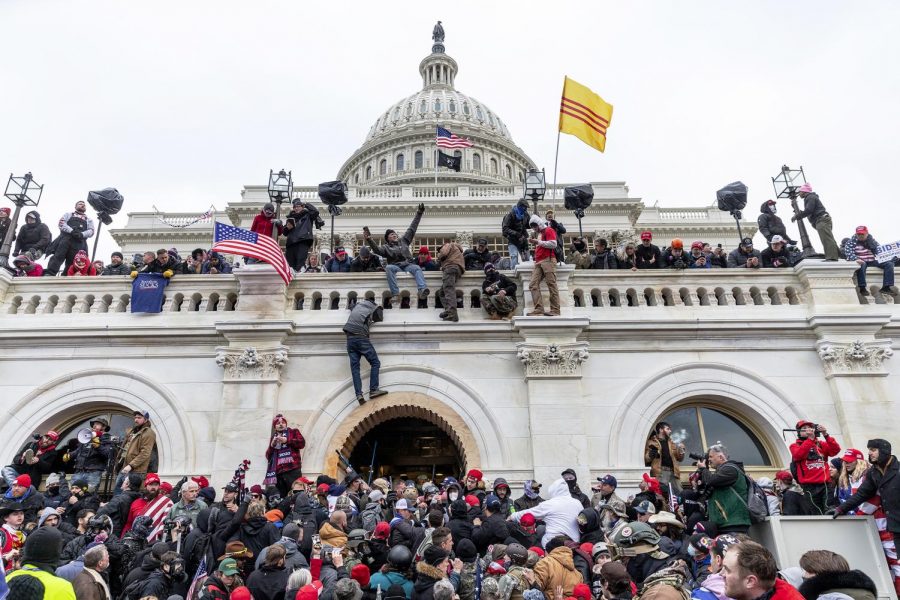 Last Wednesday shortly after a Pro Trump rally, rioters broke into the United States Capitol while Congress was in session, counting ballots cast by the Electoral College clearing the path for President Elect Joe Biden to become President. In all, a total of five people died. Here is what Madison Bobcats thought about the events.
Sad and crazy were the emotions felt by students at Madison High. 
"I think it's horrible what people did to the capitol, they should go to jail," a MHS Junior said.
Dozens have been arrested since the events on Wednesday. 
Other students also condoned the violence on both sides.
"To be hundred percent honest, my thoughts have been based around the memes, but in reality, it's not cool. People in their right minds should know when a line is crossed. The people who broke into the capital are inhumane. They're animals. That woman should not have been shot. Selfies should not have been taken. These animals should be held captive and responsible for the things they did. The police, on the other hand, need to have back up somewhere close if something like that happens," Junior Kelvin Moore said.

Videos and photographs have been the leading way of finding individuals who entered the Capitol. The FBI has many warrants of arrests out for anyone who entered the building. 
The woman who was shot was Ashli E. Babbitt, a libertarian and a Trump supporter. She served twelve years in the armed forces from the Air Force to the National Guard.
"As protesters were forcing their way toward the House Chamber where Members of Congress were sheltering in place, a sworn USCP employee discharged their service weapon, striking an adult female," the United States Capitol
Police said in a statement. She later succumbed to her injuries. 
Some MHS students agree that the protests were violent, but they weren't as bad as the BLM protests.
"There are a lot of things you have to take into account, like the BLM movement has been around for ages, with Rosa Parks and Martin Luther King, and even before them with slavery; but pro-Trump has only been for the last couple of years. The protests for BLM have been going on for a while, with an aggressive looting, and so they took the extra precautions with the Capitol building, but with the pro-Trump riot, no one had taken Trump seriously on his "let's not back down" speech, which was the factor that started it. I don't think that the Capitol was expected to get invaded and damaged like it was, therefore they were less prepared. There's another thing with the BLM movement, ACAB, where they were against the police, so more police force was issued, and they had been aggressive before. But Blue Lives Matter supporters are also Trumps supporters, and that has to be taken into account," Senior Kylie Egget said.
President Trump has been blamed for the attack on the Capitol. MHS Students share their insights of this issue.
"I think it's ridiculous that the democrats can destroy monuments of Founding Fathers, trash cities and make fun of cops in the name of black rights and it's totally fine but when the republicans do something in the name of justice and of fair elections, it's an embarrassment to the country and Trump is "evil". If the election had been the other way around and Trump had won, the left would have been making the same fuss. Matter of fact, they did when Hillary lost," a MHS Junior said.

Seeing, reading, and listening to people's opinions is something that Junior Rachal Murphy thinks is a topic that isn't being shared enough. When asked about the topic of Censorship of Republican ideals, and the app Parler. What is Parler you might ask?

"Our country is turning to socialist ideals and I do not agree. I think what is even more concerning is the censorship that is currently happening, for example social media. Things like Facebook posts are getting deleted or "fact" checked. Parler is a discussion app made since people were getting taken off Facebook and Twitter were going there to have discussions with conservatives, about conservative ideas but it got taken down by Google and Apple," Murphy said.
Parler is a right wing app which is nicknamed, "an app for free speech." Amazon said Parler hosted "violent content" that violates its terms of service. The suspension took effect at midnight Sunday.
"The processes Parler has put in place to moderate or prevent the spread of dangerous and illegal content have proved insufficient," Apple told Parler.

So where do we go from here? The actions that blew up the news on Wednesday have resulted in another impeachment trial for President Trump.
"Democrats are planning a Tuesday vote to formally call on the Vice President to wrest power from President Trump and a Wednesday impeachment vote if he does not," the house democrats said.