Bobcats Pin it to Win it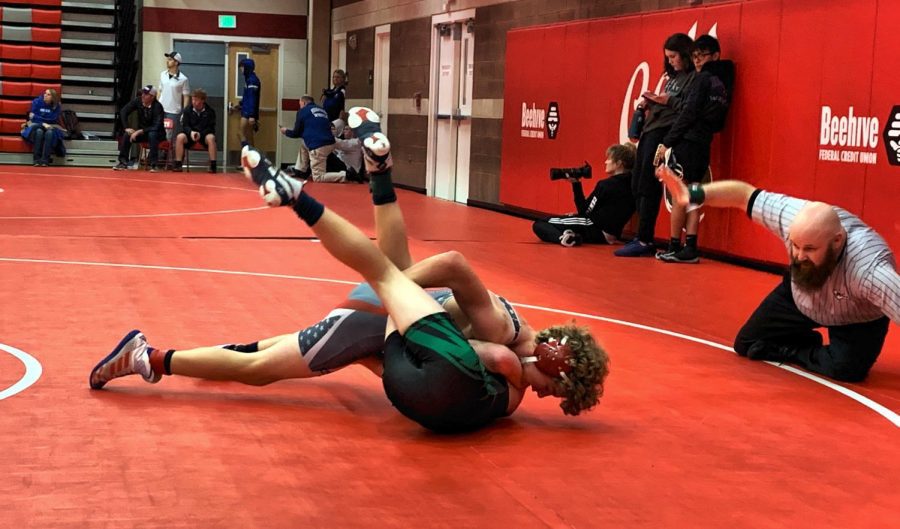 Emma Mcree, Sports Writer
January 16, 2020
Six minutes. Six minutes could be all it takes to decide whether or not you advance to the next round. This concept is nothing new for the wrestlers on the mats at the Madison Invitational; and for the Madison wrestlers, they're determined to make the most of each passing minute–even off the mat. Before a match, preparation is vital to the success of a wrestler, especially warmups. Among competitors from 16 different schools, majority of the athletes were on the mats more than an hour before the first matches had even begun: running, stretching, and practicing attacks with their teammates, to get and stay warmed up.
As soon as the clocks were ready to go, so were the wrestlers, and thus, the first round of matches was underway; the wrestlers in the hole and on deck, constantly pacing back and forth, getting themselves focused and ready for their match.
Right off-the-bat, Madison's athletes were ready to compete, and that's exactly what they did. In the first thirty minutes, five of Madison's varsity wrestlers took the mat. Of those wrestlers, three won their first match, two by fall. However, regardless of the outcome of each individual match, all of Madison's athletes put up a good fight–enduring through the tight grip of the competition. 
 "As a team, we have a pretty good momentum and we're pretty aggressive," said Madison sophomore, Noah Ingram. Ingram wrestles in the 126 lb. weight class, and has wrestled for Madison's varsity team both this year and his freshman year. In his first match tonight, Ingram went up against Blackfoot's Carter Inskeep, for nearly the full six minutes before pinning his opponent with only 15 seconds left in the match. His skill, combined with consistent defense, developed strength, and endurance made this match one that kept coaches and spectators on the edge of their seats. Ingram attributes his success to the fact that he was aggressive and that he was able to both start and finish some finely-executed attacks. After a bye through the first round, and a win over Inskeep, Ingram will advance to the quarter-final round to take on Jerome's Gabriel Taboa.
Going into the second day of this tournament, Ingram says the team's success will come from continuing to "be aggressive, keep the momentum up, have fun and support each other." At the end of day one, Madison High maintains the number four spot in team score, just beneath Century, Jerome, and Thunder Ridge.