A Winter "Hello"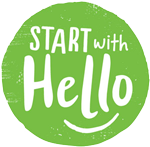 February 9, 2016
Filed under Briefs
Hang on for a minute...we're trying to find some more stories you might like.
The Winter Guard wanted to bring awareness to the students at Madison High School when they participated in Start with a Hello Campaign on Monday Feb. 8.
" I think the campaign is a brilliant idea! It encourages friendliness and positivity. Many places don't do that," said Allyn Forbush.
" In my opinion, I think that the campaign is great, but the students won't take is seriously," said Carly Stapleman.
They were very nervous about performing their routine with so many eyes watching them. " I think our nerves get to us so we don't do as well as we should have," said Carly Stapleman.
Allyn and Carly both love to do Winter Guard. They plan to do it as long as they can or when they get to college.
The Winter Guard performing at the Start with Hello assembly at MHS. Photos by: Ethan Meeker