Defeated But Not Done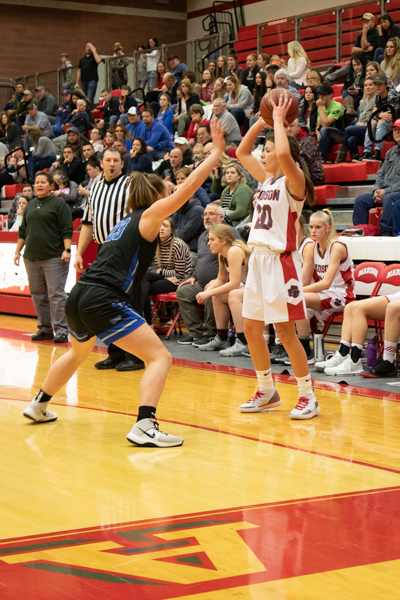 Hang on for a minute...we're trying to find some more stories you might like.
On Tuesday, December 18, the Madison Girls Basketball team took on the Highland Rams. The Cats played hard but just couldn't get it done, losing the game with a final score of 52-34.
The Rams started Mallori Vawdrey. Makenna Baker, Bailey Farrer, Kimberly Hawes, and Lydia Maughan. All of which are seniors except for Maughan. The Bobcats started seniors Kayeli Wasden and Savanah Dick, junior Macie Gordon, and sophomores Sidney Parker and McKell Parkinson.
In the first quarter, the Bobcats had a tough time shooting, the Rams capitalized on it and ended the first quarter with a score of 14-2. In the second quarter, the Bobcats shooting got a lot better but it just wasn't quite enough, going into the half with a score of 29-11.
The third quarter was a lot like the second one but the Bobcats defense stepped it up a notch, only letting the Rams score 15, but the Cats were only able to put up eight points themselves. Although their offense struggled a little bit they ended the quarter with a score of 44-19.
In the fourth quarter, the Bobcat's offense stepped it up a bit, scoring 15 points. "We are a really young team," says Madison's post player, Jordyn Day, "this is definitely a building year and all we can do is improve from here."
The Bobcats only have three seniors, including Tianna Orr who cannot play after she suffered a devastating, season-ending, ACL injury earlier this season.  But after the loss, the Lady Bobcats are still confident that they are building as a team and as a program. Day says, "we are improving everyday in practice." As the second half of the season approaches, it's all about redemption for the Madison girls.