Bees Stings Bobcats in A Close Battle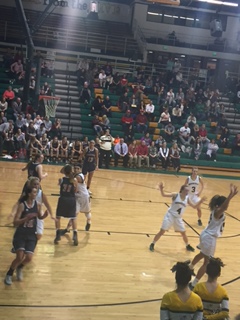 January 19, 2017
Filed under Sports
Hang on for a minute...we're trying to find some more stories you might like.
by: Cameron Airth
from Sports Journalism
Iona– The Madison Bobcats girls basketball team lost a nail-biter 47-44 Friday night to the Bonneville Bee's. Senior point guard Ryan Tyler missed a game-tying three point shot to take the game into overtime but made an exciting game for the whole crowd.
With so many lead changes throughout the game, it was difficult for either team to establish a consistent rhythm and was punctuated by good defensive play throughout the entire game.
Down six points with ten seconds remaining Bobcats star point guard Tyler drained a 3-pointer to cut the lead to three. Madison immediately fouled the Bee's who were in the bonus and missed the first of the one and one free-throws. Bobcat forward Leah Dougherty rebounded and pushed the ball up-court to Tyler who missed a chance to tie the game and take it into overtime.
"I got the ball from Leah and ran up to the three-point line and just put it up," said Tyler after the game. "It didn't go in, yes that is a bummer, but easy come, easy go, I say. I can't dwell on this and let this what happened tonight affect my game in general. There's always the next game and I plan on taking that shot if given the opportunity again."
Bonneville girl's basketball squad is one of the best teams in Eastern Idaho 4A and 5A basketball so the Bobcats knew they would have their hands full during the game. Madison started off well leading the Bees through the first and second quarter going into the locker room with the lead 20-19 at the half.
Encouraged by the first half performance, the Bobcats kept up the pressure in the second half even though the Bees answered back defensively and both teams exchanged basket after basket. There were more than seven lead changes in the second half, indicative of a defensive battle.
With three minutes to go, Bonneville took the lead and never looked back even though the Bobcats were within striking distance. At the very end of the game Bonneville took a six-point lead from a variety of foul shots made and a couple of shots made underneath the basket. In the end they couldn't pull off the win as the Bees proved too much for the Bobcats.
"We started off good but towards the end of the game we lost focus and made some simple mistakes which cost us the game," said Madison junior guard Kelsie Walker. "It was a pretty disappointing loss because so close the whole game."