Beat Rigby!!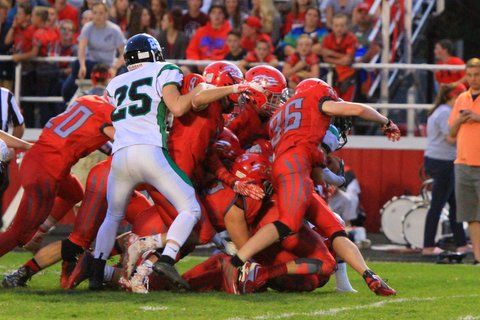 Hang on for a minute...we're trying to find some more stories you might like.
By:Lynn Hall, Olivia Marshall, and Rebecca Neal
Photo by: Standard Journal (October 2015)
As the Madison versus Rigby football game approaches this Friday, students and teachers voice their opinions about the ongoing rivalry between the two schools.
The Rigby Madison rivalry brings no shortage of opinion. Senior Leah Dougherty thinks the rivalry helps motivate the team.
"I think it gets us really pumped up whenever we play Rigby, because they're our rival and we really want to beat them, and if we don't beat them it sucks really bad, because we get shamed." said Dougherty.
Senior Mason Bagley, Spirit leader and football player for the Bobcats, said he didn't think it was much of a rivalry.
"It's weird because other rivalries in East Idaho, like Civil War and the Emotion Bowl are so hyped up that the Madison Rigby rivalry usually is barely even a game. It probably used to be a lot more hyped up, but once Rigby went down to 4A for a while, the game didn't matter as much… I think it'll mean a lot more now that it is a 5A against 5A game." said Bagley.
Despite this, Bagley thought that Rigby should remain our rival.
"That's the way it's always been. It's important that we keep up those old traditions of Madison against Rigby." said Bagley.
Senior basketball player Jaxon Edelmayer agreed with Bagley.
"I think Rigby should remain our rival, but also Highland is pretty up there too; there's a big rivalry with Highland and Madison" Said Edelmayer.
Former teacher at MHS and sports journalist in the area, Bill Scheiss, has a strong view on rivalries in general.
"I dislike all rivalries. I think it has a tendency to bring out the worst in the audience, and I don't think it helps the players at all." said Scheiss.
Scheiss told us how he thought the rivalry started.
"I think it started because of the close proximity of the two schools, and because of that close proximity, there's always some kids who live in the Rigby school district that comes here to school, and excels in athletics, and some of our students go to there, and play for their schools." Scheiss said.
Overall, there was a pretty good consensus about who's going to win Friday night's game.
"Definitely us!" both Dougherty and Edelmayer said.
"Of course Madison will win. I pick Madison by two touchdowns at least." Scheiss said.