Where to be Summer of 22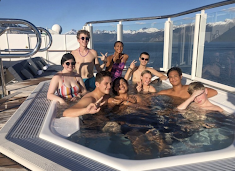 It's almost vacation time. Where are you going? Maybe consider places like Vegas, Hawaii, hiking the narrows, an Alaskan Cruise, even Rabbit Stick. 
"I was worried that my Alaskan cruise would just be boring and full of old people, but it turned out to be the best experience of my life. I made so many friends that I'm still close with to this day. There was also a very cute guy I met. My friends and I went to a buffet every day because the food was that good. My favorite part was seeing the gorgeous glaciers and pretty northern lights at night," said Junior Lleida Brunson.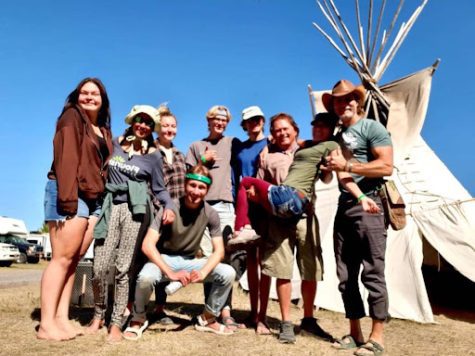 Chilling in a hot tub surrounded by the Alaskan Mountain Ranges is always nice.
"Every year my family and I go to Rabbit Stick, along with hundreds of other people. I've been going since I was a baby because my grandma is one of the founders. The whole point of it is to learn primitive skills so everyone teaches each other all kinds of survival skills such as: hunting, pottery, cooking, leather tanning, etc. We all just go camping by the river in Hilbert Idaho for a week. There's people of all ages and a lot of Hippies, it's really cool," junior Denitra Chapple said. 
What a unique experience you could have here. A similar but different experience could be hiking in the wilderness like Jacob. 
"We all went on a guy's trip to Saint George. There were 15 guys, three bedrooms. It was crammed. While we were there we hiked the narrows with air force ones and sandals," senior Jacob Torres said.
Crowded. If you're not so outdoorsy try walking around the beautiful city of Las Vegas.
"While in Vegas my friends and I went to all different places like the Hunger Games and Dolphins exhibit, Hershey Factory, and the strip.  It was really cool to see the dolphins jumping out at you and all the crazies on the strip. Both Freddy Kreuger and Pennywise came up to me out of nowhere and hugged me while I was walking. It was terrifying," junior Kaily Luna said.
Either going somewhere far away or staying close to home, this summer will be full of good times, and good vacations.
"I went to Hawaii and while there we went to the beach all day and drank pina coladas. I had a lot of fun while there," sophomore Ellie Moffitt said.