Run like you Stole it!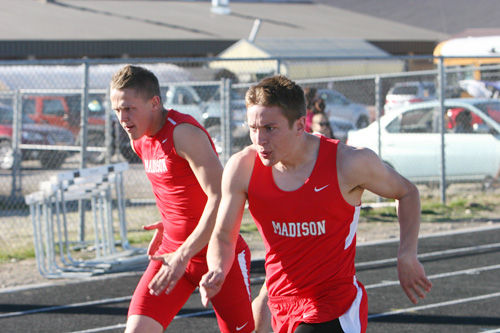 Hang on for a minute...we're trying to find some more stories you might like.
A preview of the MHS boys track team
Story by: Jarret Dorman and 
Logan Garner
The first meet for the Madison High School track and field team is just over a month away, but the athletes feel like they are ready to compete.
The team has been training hard all winter, and are excited to see what they can do at some of the bigger meets.
"I am really excited about our schedule this year," said varsity distance runner Kimball Allowitz. "We get to go out of state several times, including to the BYU Invitational."
Last year, the Madison boy's varsity team placed seventh at the Idaho 5A State Championships.
"There is definitely room for us to improve," said varsity sprinter Daniel Crawford. "We are getting a lot new guys, so it will be fun to see what we can accomplish this season."
However, the Bobcats lost over 15 seniors and will have to work extra hard in order to accomplish their goals.
"I think our team is going to struggle a bit because of the loss of all the great distance runners," said Madison head coach Steve Barrus. "However, I think our field athletes are looking strong and will help make up the difference."
The area that suffered the biggest loss was Madison's distance team. The Bobcats bid adieu to four state qualifiers, but that has not tainted Allowitz's optimistic attitude.
"I have a lot of expectations for our distance team," said Allowitz. "We really worked hard and had a strong year in cross country. If we can transfer that same work ethic to the track then I would be scared for any team who has to run against us."
Losing to Hillcrest at the District meet last year has motivated Madison's boys to work harder during the off season. Many of them meet after school work out together.
"In addition to being ready physically for the season, we have to maintain a team bond so that we can push each other," said Allowitz. "There are a few of us whose best times are all within one second of each other, so it is important that we duplicate that same level of drive this year."
The Bobcats are on the hunt to become the district champions. It will be difficult, but everyone remains optimistic. "We are impossible to beat as long as we run like we stole it," said Allowitz.