Start With Hello week kicks off at MHS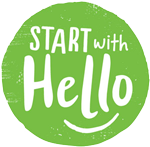 Hang on for a minute...we're trying to find some more stories you might like.
Photos by: Ethan Meeker
[polldaddy poll=9303130]
Monday:
The students and staff of MHS, Madison Cares staff and local dignitaries all gathered in the gym today to start a week long campaign in connection with the Sandy Hook Promise to say hello to someone new. The County Commissioners, Sheriff, Chief of Police, Mayor, City Council, and Superintendent all came together to sign an official Declaration that this week in Madison County, the City of Rexburg, and the Madison School District be designated as Start with Hello week. Follow all week as the Bobcat Beat reports follow the planned events and share experiences of people who are participating in this campaign.
Today's activity: How many ways can you say hello in one minute?