Run Fast or Be Last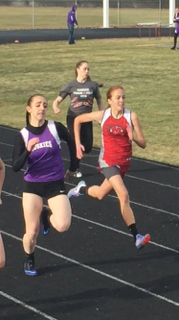 Hang on for a minute...we're trying to find some more stories you might like.
By: 
Brielle Hammond
The Madison High School Track and Field Team had a great start to their season within only two meets.
On March 26, the Varsity team got the opportunity to attend a meet at Timpanogos Orem High School. Around 30 high schools from Utah and Idaho came to compete.
 Sophomore Lexi Wightman competed in girl's pole vaulting, and got first overall with 9 feet and 3 inches
"My goal was to clear 9 feet, now that I have, I know I can go higher," said Wightman.
For boys' 110m hurdles, Sophomore Hunter Madsen got third place overall with time as fast as 16.58 seconds.
"Months before track I would picture myself winning and that motivated me to do better," said Madsen.
For boys' long jump Senior Konner Stoneberg got second place overall with 20 feet and 9 inches.
The next track and field meet will be April 12th and 18th . Go and support your Madison Bobcats.